Ingrediënten voor 5 liter product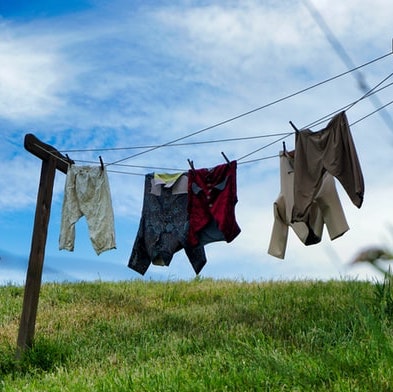 Reduce that footprint! Verklein je voetafdruk!
Rasp de marseille-zeep
Breng 1 l kraanwater aan de kook met de geraspte zeep
Laat een 10tal seconden doorkoken
Voeg 4l kraanwater toe
Laat opnieuw opkoken (de zeep is volledig gesmolten)
Laat minstens 24u rusten.

Als je marseille-zeep met palmolie gebruikt heb veranderd  je wasproduct binnen de 24 u in een dikke blubber. 

Roer deze goed door of mix met staafmixer en giet over in een bidon. (Bij zeep zonder palmolie blijft het product waterachtig.) 
Klaar!
Gebruik 150 à 200ml per wasbeurt in een wasbol in de wastrommel.
Hou je van geparfumeerde was? Doe het wasmiddel in het schuifje en voeg dan vlak voor de wasbeurt 10 à 20 druppels etherische olie toe. (liever niet de wasbol gebruiken om vlekken van olie te vermijden).
Je kan hiervoor je gewone keukengerei gebruiken. Na afwassen weer volledig rein, zonder nageur. 
Industrieel wasmiddel bevat een stof die ervoor zorgt dat de zeep niet aankoekt in je wasmachine.  Deze stof zit natuurlijk niet in het zelfgemaakt wasmiddel. 
Wat kan je doen om aankoeken te verhinderen:
Doe na 10 à 15 wasbeurten met huisgemaakt wasmiddel een kookwas was met industrieel gemaakt wasmiddel.
Of laat af een toe een machine witgoed draaien met javel erin…