Ik wil graag kippen houden in onze tuin. 
Kippen zijn te gek, ze eten kevers en wormen en insecten en keukenafval (en kippenvoer natuurlijk), ze scharrelen en maken leuke geluidjes EN ze leggen eieren!! 
En ze "produceren" mest voor de groententuin die we willen aanleggen. Nu dus nu zetten we de punten allemaal op een rij…
Het aantal is natuurlijk afhankelijk van de beschikbare plaats. (Volgens Velt moet je min. 5m2 rekenen per kip, maar beter is 10 of 15m2, dan blijft de ren groen) en het aantal eitjes dat je graag zou hebben.
Misschien is 3 om te beginnen een goed getal…
hm, er zijn zeker voordelen als je er een haan bijzet (meer hierachter) maar er kan wel geluidshinder ontstaan, en dat is misschien wat minder leuk voor de buren.
Liefst legkippen van sociale soort, die niet zooo veel scharreld en het goed met kinderen kan vinden.
En zeker biologisch gekweekte kippen!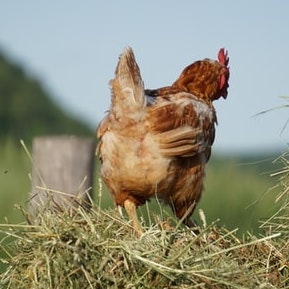 Kippenhok
We hebben ook al een paar behoeftes gedefineerd voor de kippenhok.
gemakkelijk te kuisen
automatische deur
een voedingsbuissysteem
een voorziening voor vers water
Waar we nog niet aan uit zijn
Een open ren (omheining min 150 cm hoog) of een volledig gesloten?

Waar in de tuin moet de ren komen?