Bewaar de orangettes goed afgesloten in de koelkast.
Ingrediënten
bakpoeder
4 Sinaasapplen
grof zout
water
500g zuiker
500g pure chokolade
Bij de bereiding van de orangetten blijft een dikke siroop over. Deze kan je puur bewaren of "spiken" met korte drank.
Gebruik biologische sinaasappelen, dan loop je minder gevaar op zware pesticides in de schil.  Reinig de sinaasappelen door ze in een kom koud water met backpoeder ongeveer 10 minuten te laten dobberen.
Alternatief kan je ook Citroen gebruikeh … dat worden dan "Citronelles" 😉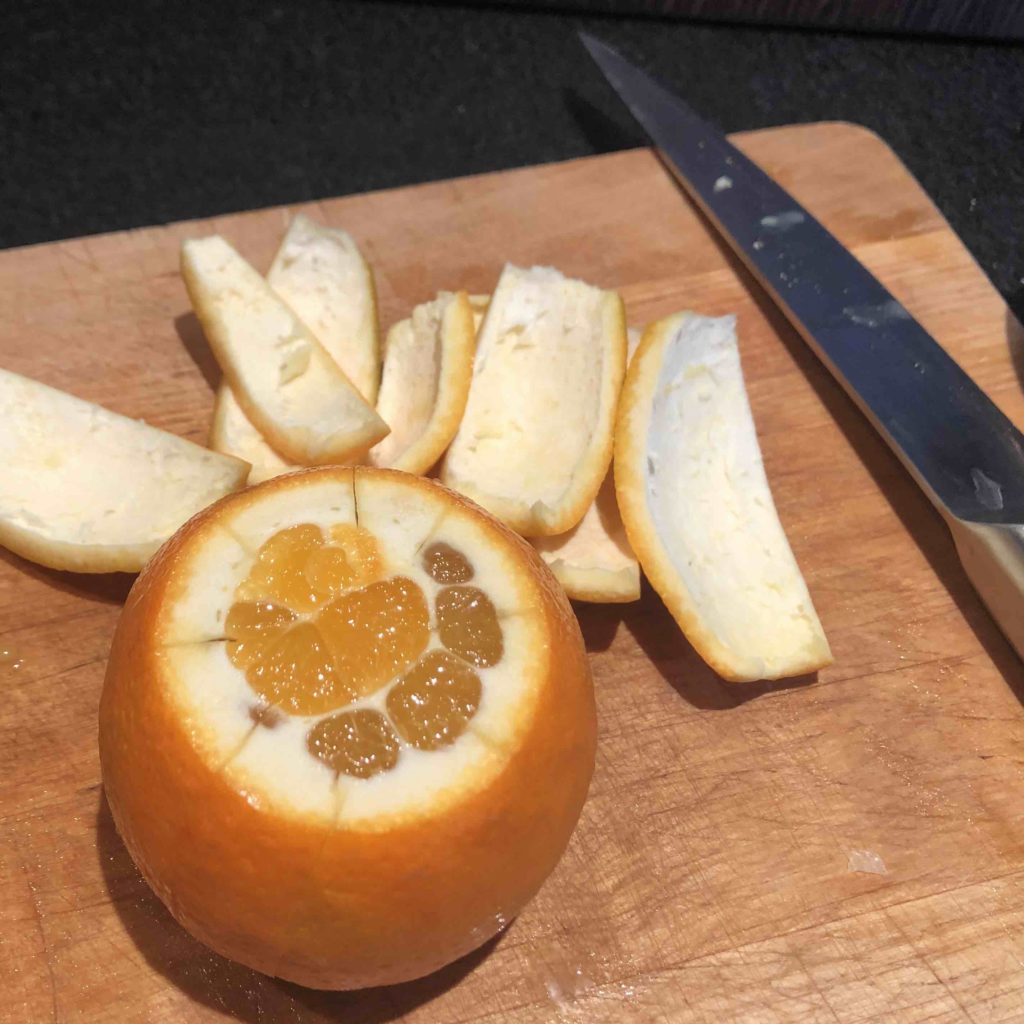 Bereiding
Snijd een rondje van de sinaasappels en dan de pel in brede repen en verwijder ze van de sinaasapple. 

Snij de de schillen in smalle reepjes van ca. 5 mm breed.

Kook de schillen 5 min. uit in een pan met ruim koud water en het zout 
Giet het daarna af. Het zout vermindert de bittere smaak van de schillen.
Herhaal je dit nog twee keer, telkens met vers koud water zonder zout.. 
In een andere pot b

reng 400 ml water aan de kook met de suiker en voeg de schillen hieraan toe en laat deze nog een 15tal minuten meekoken tot ze beetgaar zijn.  Het water met de suiker wordt een dikke siroop met sterke sinaasappelsmaak, deze kan je verder verwerken. De schillen zijn nu gekonfijt.

Haal de schillen uit de siroop en laat ze goed uitlekken. 
Droog de gekonfijte schillen nog 24 tot 48 een rek of 1 uur in de oven op 50 °C.
Tempereer de chocolade
Wentel de gekonfijte schillen in de getempereerde chocolade en laat even uitlekken op een roster (dan wordt de chocoladelaag niet te dik). 
Leg de orangettes op een vel bakpapier en laat ze volledig drogen.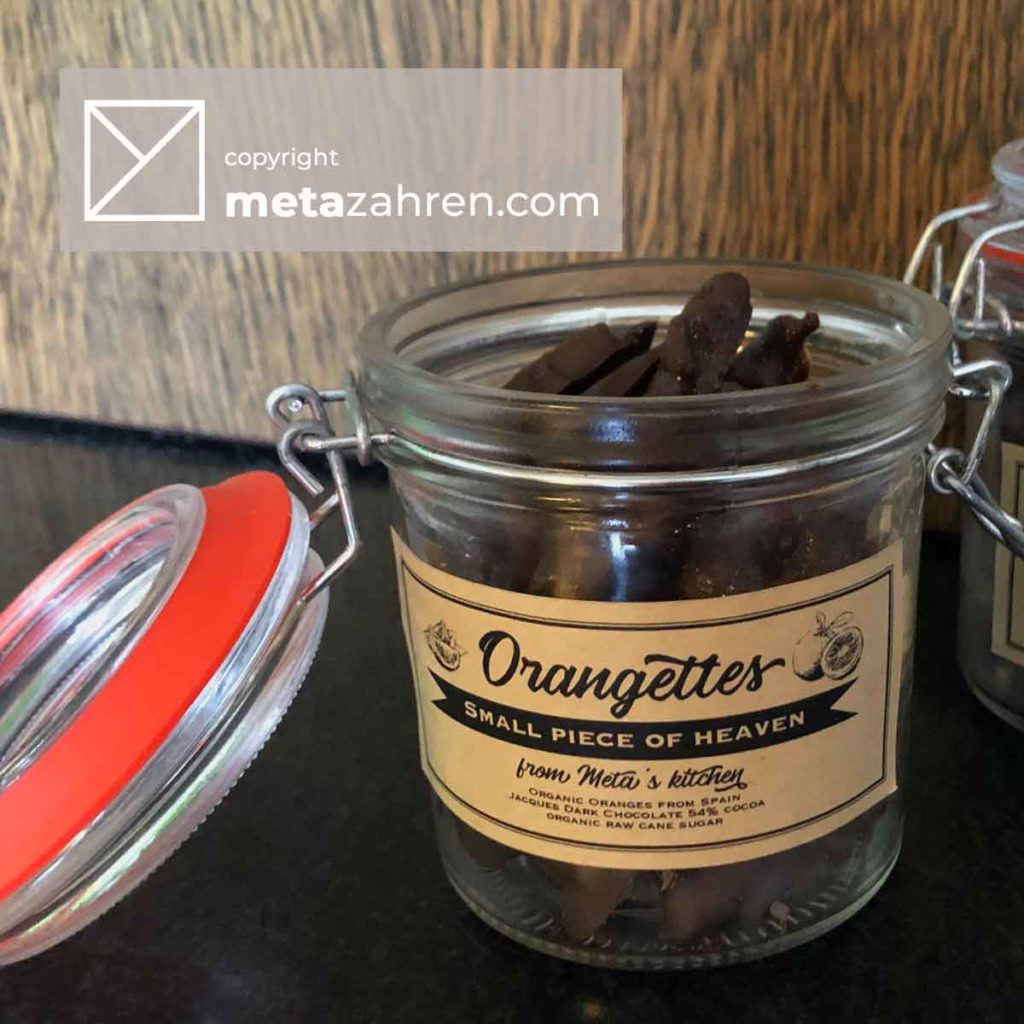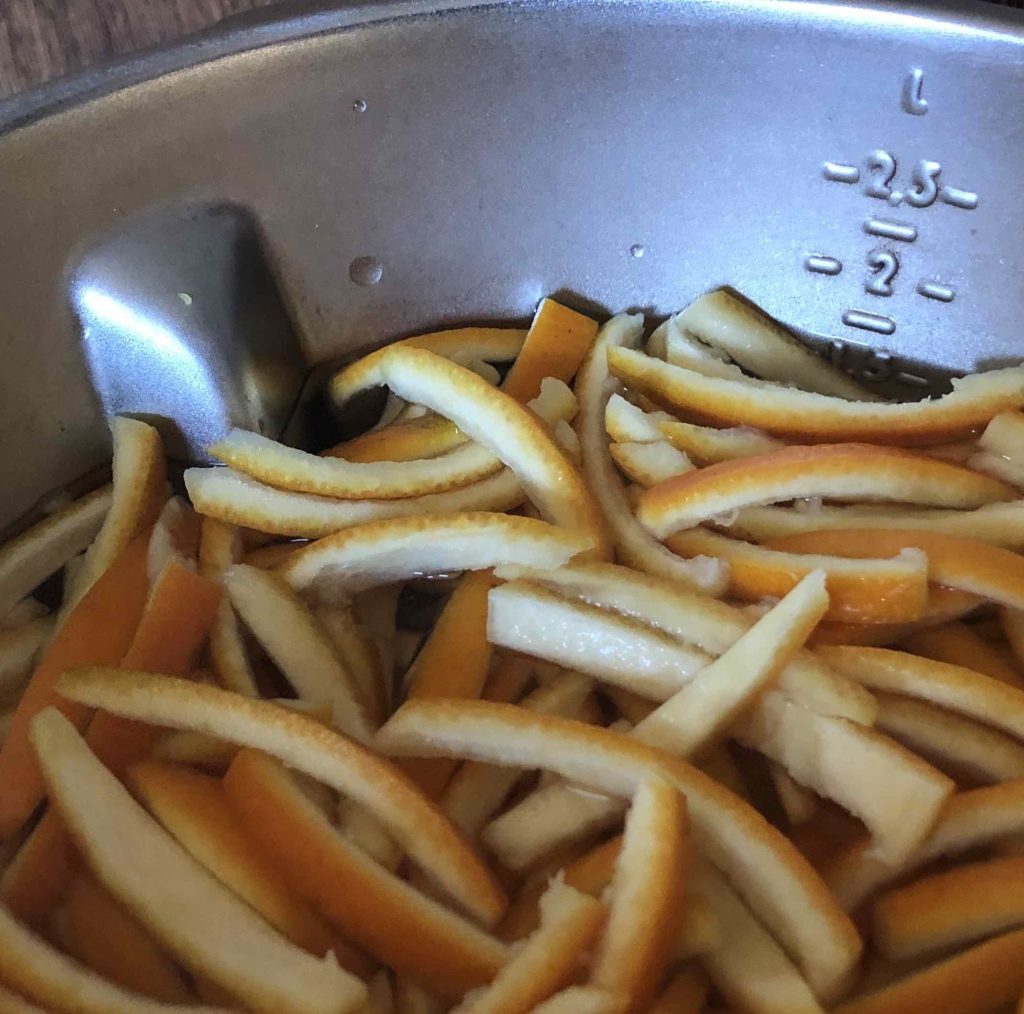 Pure Chocolade tempereren
Smelt 2/3 van de pure chocolade au bain-marie tot 45-50°C (*) – een wijntermometer is hiervoor handig… in de meeste huishouden slingert er wel eentje rond, want deze zijn populaire verderdag geschenken.
Neem de chocolade van het vuur en roer er het overige 1/3 van de chocolade door tot de toegevoegde chocolade smelt.

Als de toegevoegde chocolade snel smelt is het geheel te warm en je kan meer chocolade stukjes toevoegen om de temperatuur te laten zakken.. Als de chocolade niet snel genoeg smelt, kan je het potje kort en zachtjes verder verwarmen om het iets vloeibaarder te maken.

Laat afkoelen tot  en het geheel af te koelen 

31-32°C (**)
(*) Melk en witte chocolade slechts tot 40-45°C.
(**) voor melk 29-30°C en voor wit 28-29°C.
Wat ik nog wil uittesten is chocolade tempereren in Magimix Cook Expert…. Eigenlijk zou dat perfect moeten lukken.